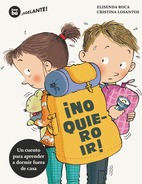 Series;

Early Readers




978-84-8343-571-7

48 pages.

Paperback

Without taxes: 7,21€
Taxes included: 7,50€


Age: 7+

14.5 x 19 cm

I Don't Want to Go!
Author: Elisenda Roca
Illustrator: Cristina Losantos

The latest story by Elisenda Roca, illustrated by Cristina Losantos, is aimed at those early readers who don't like sleeping away from home. Are you ready for camp? Let's pack the backpack and turn the page. It promises tons of fun!.
Other titles in the series