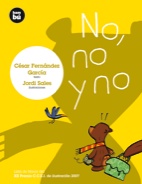 Series;

Early Readers




978-84-8343-008-8

48 pages.

Paperback

Without taxes: 7,21€
Taxes included: 7,50€


Age: 6+

14.5 x 19 cm

No, No, No!
Author: César Fernández
Illustrator: Jordi Sales

The bear family have to leave the frozen mountains, where they have always lived. Middle Bear never stops complaining about the change. Everything seems wrong with the new valley where they live. But soon something happens which will enable him to see the more positive side of life.
Other titles in the series