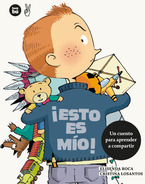 Series;

Early Readers




978-84-8343-287-7

48 pages.

Paperback

Without taxes: 7,21€
Taxes included: 7,50€


Age: 7+

14.5 x 19 cm

This is mine!
Author: Elisenda Roca
Illustrator: Cristina Losantos

Alejo was a generous and unselfish boy that lent everything without hesitation. So why has he been so stingy lately? Now he won't let anyone have anything. Not to his friends, not to his classmates and not even to his little brother. But soon he'll have an experience that will help him to understand that nothing is fun if it can't be shared.
Prizes
2015 - International Latino Book Awards, granted by Latino Literacy Now
Other titles in the series