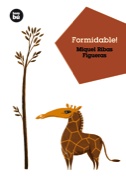 Series;



978-84-8343-019-4

80 pages.

Paperback

Without taxes: 9,13€
Taxes included: 9,50€


Age: 8+

14.5 x 21.5 cm

Wonderful!
Author: Miquel Ribas
Illustrator: Marc Torrent

Fina Ant is a very smart giraffe and there are few to compare with her. Despite being the smallest of the herd, she has the most adventures. Few of her companions would dare to enter a cave as dark as the throat of a lion, and would they manage to survive a night lost on the savannah and surrounded by frightening beasts?
Other titles in the series