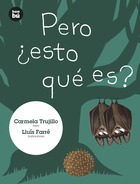 Series;

Early Readers




978-84-8343-593-9

64 pages.

Paperback

Without taxes: 8,17€
Taxes included: 8,50€


Age: 7+

14.5 x 19 cm

But What is This?
Author: Carmela Trujillo

Night is falling and the farm animals are getting ready to go to sleep. All but Mr. and Mrs. Murciélaguez, who go out in search of food. Murcie and Lago, the youngest two members of the family, have to stay in the barn despite their protests. Suddenly, a strange animal appears through the door. "Could this be our cousin, the one who lives abroad?" they ask. But, as Mr. Cabállez knows, bats don't have prickles, do they? A funny story about family relationships, differences and love!
Other titles in the series