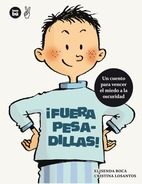 Series;

Early Readers




978-84-8343-167-2

48 pages.

Paperback

Without taxes: 7,21€
Taxes included: 7,50€


Age: 8+

14.7 x 19 cm

Go Away, Nightmares!
Author: Elisenda Roca
Illustrator: Cristina Losantos

John is a quiet and cheerful boy during the day, but when night falls he is assailed by all kinds of fear. From his bed, he sees threatening shadows and terrifying creatures that vanish when his parents turn on the light. His grandmother will teach him to conquer his fear. Because… whoever said that darkness couldn't be fun?
Other titles in the series