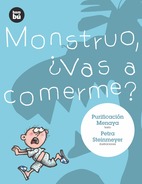 Series;

Early Readers




978-84-8343-027-9

48 pages.

Paperback

Without taxes: 7,21€
Taxes included: 7,50€


Age: 6+

14.7 x 19 cm

Monster, Are you Going to Eat me?
Author: Purificación Menaya
Illustrator: Petra Steinmeyer

A child finds a monster under his bed. He thinks it wants to eat him, but the truth is that the monster does not like eating children. Do you know what this monster eats? Something very good to taste which the boy will try too.
Other titles in the series